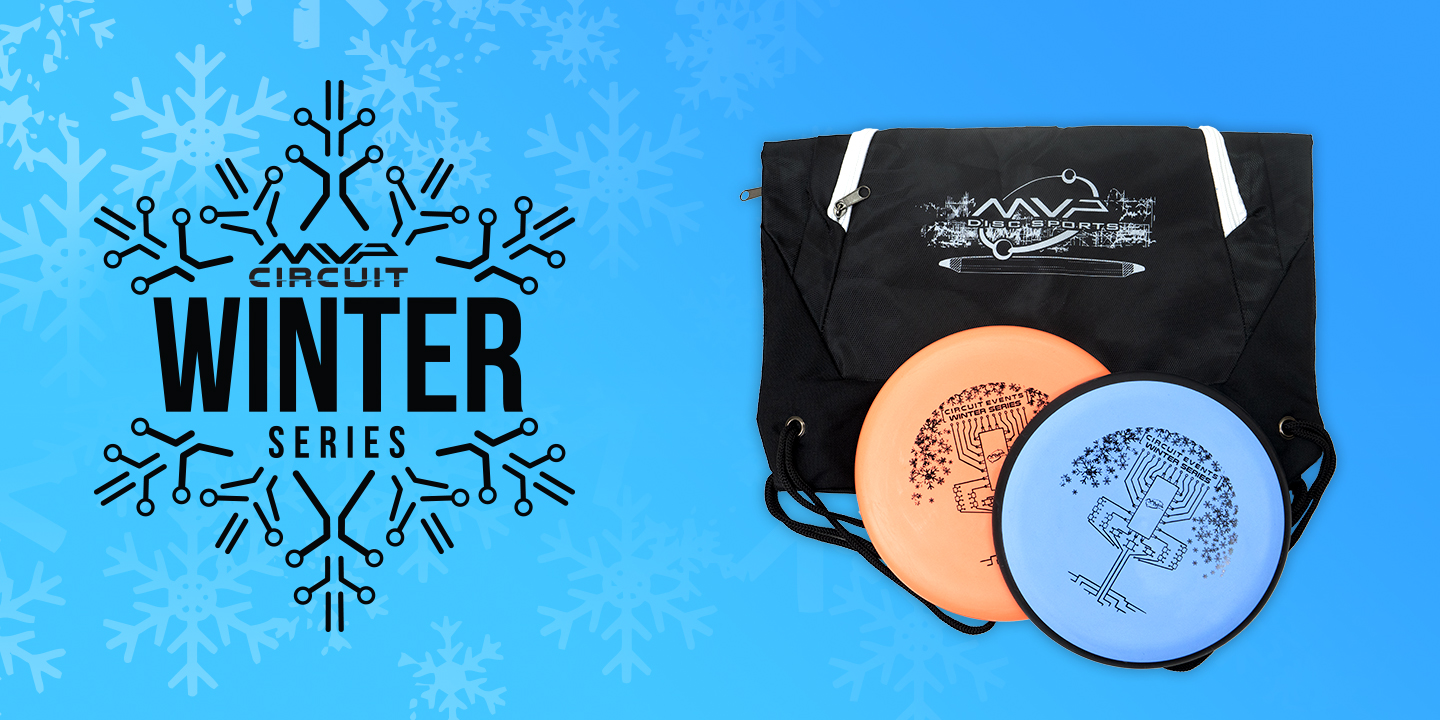 For a great players pack with exclusive disc runs, make your winter event an MVP Winter Series! The MVP Winter series features a previously unreleased Electron Firm Pilot from Streamline Discs and the classic MVP Electron Spin.
The Winter Series is available to be run February 2nd through April 28th, 2019.
Recommended entry fee for a Winter Series event is $26.
2019 Player's Pack Includes:
Streamline Pilot – Straight flying low profile Putter in Electron Firm Plastic (New Firm Blend)

MVP Spin – Understable putter in Electron Plastic

MVP Drawstring Bag
2019 Winter series will feature our much sought after Black metal Coordinator trophy, and Gold Metal Event Winners Trophy
Standard Prize Pack items (to be divided by the Event Director) include an option of: MVP plastic (10 Circuit discs assortment), two Nucleus Tournament Bags, or a Black Hole® Pro Basket. Prizes may be given for the winners of the round, as well as winners of Putter Olympics and the Driver Showcase.
About the Player's Pack Discs:
Streamline Electron Firm Pilot (160 – 175g)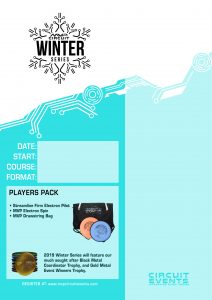 The first Streamline Putter, now making its debut in Firm Electron Plastic

Low profile, small bead Putter for smooth consistent release

Speed 2 | Glide 5 | Turn -1 | Fade 1
MVP Electron Spin (155 – 175g) 
Understable Putter in grippy Electron plastic

10mm Rim Putt & Approach Class

Speed 2.5 | Glide 4 | Turn -2.5 | Fade 0
Other 2019 Event Offerings
As with previous years, MVP has always pushed the envelope with new and exciting discs and features. This year is no different. In addition to the extra event options such as the putting competition, and drivers showcase, MVP is proud to announce:
2019 Macro Tesla Challenge
One of our most popular drivers, now in Macro Form. Don't let its size fool you, this powerhouse flier has already been launched over 450+ feet by our testing team. So keep an eye out for this add-on in your order forms, and be sure to ask your tournament directors about getting a Macro Tesla!
---
 Circuit-Stamped GYRO® Plastic
2019 Circuit-stamped plastic is available exclusively to Circuit Event Directors with their event order.  If there are items here that you want, tell your Event Director more than 1 week in advance of the event so they can order.  Event Directors may also purchase additional Player's Pack discs, so let them know what you want!
More to be announced as the season goes on!