The 2015 MVP Circuit is an event designed to promote disc golf to new players, introduce players to the MVP Disc Sports brand and products, and serve as a gathering for MVP Fans.
Recommended entry fee for an MVP Circuit event is $30.  Registration is through your Event Director.  If you'd like to get an MVP Circuit event in your area, please refer your local TDs, Retailers, and Clubs to this link.  Host a Circuit
---
Event Format
Putter Olympic Games
1 Round of Disc Golf
PDGA Rules recommended, Optional Singles, Doubles, or Points Format
Driver Showcase
Awards
---
Player's Pack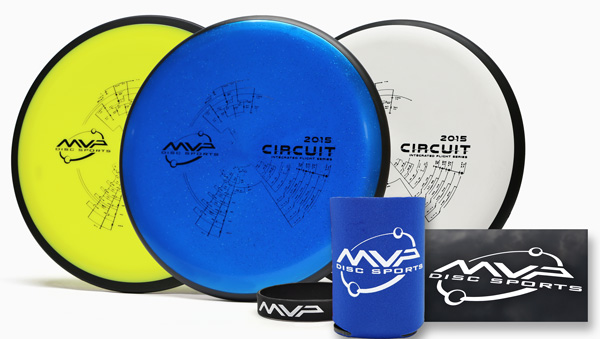 Player's Pack and Circuit-stamped Discs Details
Unreleased Relay 16mm Fairway Driver in Neutron Plastic
Tangent Midrange Driver in Plasma Plastic
Atom Putt & Approach in Electron Plastic
Swag Pack with MVP Koozie, Wristband, and Vinyl Sticker
Retail value over $60!
Standard Prize Pack items (to be divided by the Event Director) include MVP plastic and accessories, as well as a large metal disc with a unique MVP Circuit Champion stamp. Prizes may be given for the winners of the round, as well as winners of Putter Olympics and the Driver Showcase.
---
Winner's Pack
Each Circuit Director will be provided with one default prize pack to divide at their discretion, and may purchase additional Circuit-stamped discs for prizes.
The Circuit Champion Prize Pack includes 10 Circuit-stamped MVP discs and a 15cm diameter, 275g golden aluminum trophy disc.
---
Event Coordinator's Pack
Each Circuit Director will receive a full Player's Pack free of charge, as well as a black 15cm, 275g Circuit Coordinator trophy disc.
---
GYRO™ Putter Olympics
Every Circuit event should be fun, informative, and encouraging to all.  We've left room for creativity by the Event Director to meet this goal for their unique disc golf community.  The Circuit begins with a celebration of putters and all that they can do.
GYRO™ Putter Olympics is a series of games designed to familiarize players with their Player's Pack Electron Atom and showcase the capabilities of MVP's premium putters (BYOPutter or purchase from the Event Director's stock).  For newer players, this is an excellent time to get instruction and practice the basics.
Ideas for Putter Olympic Games:
Putter Distance Driving Competition
Putting Stations
Ring of Fire
Long Approach Shootout (CTP)
G-Y-R-O Shot Challenge Bracket
Details and exact games/rules are left up to each Event Director.  Unique and Fun are the key words — as the earliest discs said, "Invent Games".  Share your unique Putter Olympics pictures and video on our Facebook Page!
Prizes may be given for individual games and/or for overall winner, to be determined by the Event Director.
---
3-Disc Round of Competitive Disc Golf
Players may use only their three Circuit Player's Pack discs.  Format TBD by Event Director.
There are plenty of great formats for competitive disc golf, and this is another creative opportunity for the Event Director.  Whether they choose the classic PDGA Singles format, Doubles, Cali Singles, or Birdie/Metal/Ace Points format, a Circuit Round should be fun and competitive.
The Circuit Player's Pack includes an understable 16mm Fairway Driver that should be useable for all throwers from beginner to expert.  The ideal disc golf course for a Circuit Event would have average 200′-400′ holes.
---
Driver Showcase & Awards
After the 3-Disc Round, players will have a bit of downtime as cards come in, which can be filled by our Driver Showcase.  We encourage each Circuit Event to carry a stock of MVP plastic to sell, including our Fairway and Distance Drivers, and players may bring their own GYRO™ bag to drive after the round.
The highly anticipated Photon and Wave 21.5mm Distance Drivers, as well as Plasma Inertia and Tesla, will be available (with 2015 Circuit stamps) to your Event Director should they choose to carry them, so let them know you're interested when you register.
The Driver Showcase is intended as a free-form driver exhibition, practice, and instruction time.  Your Event Director may elect to have competitive Distance, CTP/Accuracy, or other Driver Games.  Now's the time to let those big GYRO™ drivers rip.
Once the Event Director is ready, they can begin their Awards Ceremony for winners of the various Circuit events.